Note: Chemical Injection is NOT Included

How can you tell if you need a vertical shaft pump? If the engine is on top of the pump it is considered a vertical shaft pressure cleaner. The vertical shaft pressure pumps are popular for homeowner price point models and are usually sold through discount chains and big box stores. Although Water Cannon will not sell vertical style homeowner grade pressure cleaners we do offer a high quality pump replacement from Annovi Reverberi.
RPW2G19-PKG features a short tube design that allows the pump to be mounted to a standard or reverse tube application. The pump mounts directly to the bottom of a 7/8 inch vertical shaft engine that is two inches or less. Engine shafts longer than two inches will require spacers or washers and longer mounting bolts.
The pump package is ready to bolt on and go and includes the following standard features;
• Standard Garden Hose Adaptor with an easy to grip swivel
• Stainless Steel Inlet Filter and Washer
• Automatic Thermal Relief Protection so the pump will not overheat when your trigger gun control is closed
• Adjustable Pressure Valve up to 2000PSI Max.
• Maintenance Free Synthetic Lubricated Radial Style Crankcase
• Standard 22MM threaded outlet
• Specifications; 3400RPM - 2.0GPM - 2000PSI Maximum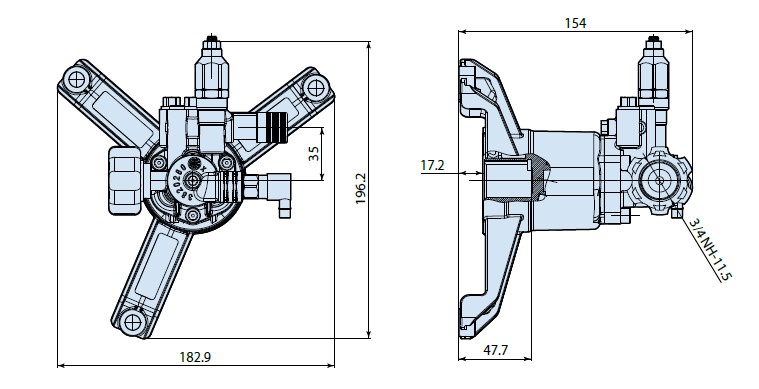 RPW2G19 - READY TO RUN VERTICAL 7/8" HOLLOW SHAFT - AXIAL 2GPM - 1900PSI PLUMBED (Max Approved To 2000PSI) - SHORT TUBES - No Chemical Injector - TP140 1/4" Thermal Valve Sold Separately+DS
Helpful tips to keep your pressure washer pump operating at peak performance
Warning California Proposition 65
Detectable amount of chemicals known to the State of California to cause cancer, birth defects or other reproductive harm may be found in pressure washing equipment, accessories and exhaust. For More Information Visit www.p65warnings.ca.gov